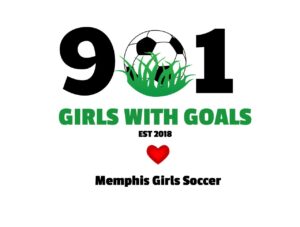 901 Girls with Goals Soccer Clinic
901 Girls with Goals was established to help provide support for Memphis middle school and high school girls soccer programs. 901 Girls with Goals offers equipment support, clinics for skill development and supports offseason play opportunities. Clinics are offered in conjunction with Play Where You Stay  We have a suggested fee of $10 per clinic.  Pay through the site at the bottom of the form or at the field.
Sign Up Now for Upcoming Clinics!
Saturday, July 13th 9am – 10:30am
The Kroc, 800 E Parkway South, 38104
Saturday, August 3rd 9am – 10:30am
Includes Goalie Training
Early Maxwell, 2452 Central Avenue, 38104
Saturday, August 17th 9am – 10:30am
Includes Goalie Training
The Kroc, 800 E Parkway South, 38104